Man arrested over Paul Douglass death in East Kilbride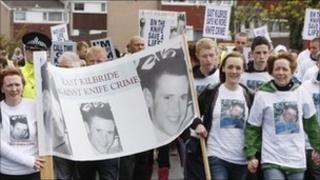 A 32-year-old man has been arrested and is being detained in police custody in connection with the death of a man in East Kilbride in April.
Paul Douglass, known as PJ, was found with serious injuries after being stabbed in Mallard Close on 29 April and later died in hospital.
Last week, about 300 people took part in a memorial march for the 20-year-old, to raise awareness of knife crime.
It is expected the arrested man will appear in court on Tuesday.