ScotRail posts will man gates to halt rail fare dodgers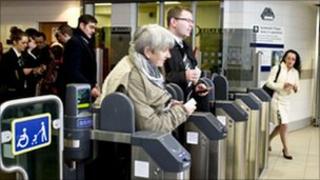 Train operator ScotRail plans to create 69 new jobs to oversee the running of automated ticket gates being installed at four stations in Glasgow.
The 42 full-time and 27 part-time posts will cover the gates at Argyle Street, Anderston, Charing Cross and Glasgow Central low and high level stations.
The £5.7m "ring of steel" is being installed in a bid to cut fare dodging.
ScotRail said it expected the new system would help reclaim about £1m each year in lost revenue.
The Charing Cross gates are already in place, with the Anderston and Argyle Street gates set to become operational later this month.
Revenue saved
Glasgow Central low level gates will be in place by the end of July, with the high level gates being phased in between September and November.
Steve Montgomery, ScotRail's managing director, said: "We are delighted to be creating more jobs across Glasgow city centre.
"In addition, the gates are expected to save us around £1m-a-year in lost revenue.
"This level of reinvestment will add to the future prosperity and growth of the rail industry within Scotland."
ScotRail said it hoped the new gates would also improve station security and discourage anti-social behaviour.