Vandals kill animals at shelter in Gourock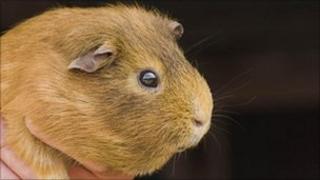 Vandals have killed six small animals and 12 others are missing after a break-in at an Inverclyde petting zoo.
Police said Pets Corner, in Darroch Park, Gourock, was raided sometime between 1930 BST on Tuesday and 0800 BST on Wednesday.
Four guinea pigs and two finches were killed and a duck and rabbit are being treated for injuries.
Inverclyde Council, which runs the facility, described the break-in as an "unspeakable act" of cruelty.
'Unwarranted attack'
Strathclyde Police said three ducks, one chicken, one cockatiel, three guinea pigs, three love birds and one budgie were missing after the break-in. The petting zoo was also vandalised.
Sgt Alison Kennedy appealed for anyone with information about the break-in to come forward.
"This has been an unwarranted attack on innocent animals who are cared for very closely by the park's staff and I would urge anyone who might have information on this to get in touch," she said.
"We need to speak with people who may have seen something or someone acting suspiciously in or around the park as their information could be vital in helping us identify those involved."
The shelter, which is popular with children, is run by Inverclyde Council.
Provost Michael McCormick said: "Words fail me to describe the kind of person who would be capable of something like this. I know news of this unspeakable act will cause a great deal of upset across Inverclyde.
"Pets Corner is hugely popular for people of all ages and to subject the animals to such an ordeal both beggars belief and deprives the local community of an important source of pleasure.
"I know that everything is being done to assist Strathclyde Police in bringing those responsible to justice."