Three Motherwell children in used needle health scare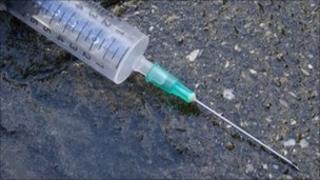 Three young children were taken to hospital after handling a used needle they found while playing in a park near their homes in North Lanarkshire.
Two boys, aged three, and a four-year-old girl, were found with the dirty syringe at a play park in Motherwell at about 1730 BST on 31 May.
They were taken to Wishaw General Hospital and later released.
It is believed they will require further medical tests to ensure they have not contracted any diseases.
Police said it was not known if the needle was placed there deliberately.
It has been reported that it was found a few yards from a syringe disposal bin.
The park is less than a mile from a nursery centre.
A police spokeswoman said: "I can confirm officers were called around 5.40pm on Tuesday 31 May to Dalriada Crescent, Motherwell, following reports that three young children had found a used needle.
"Officers liaised with the cleansing department at the local authority who attended, removed the needle and cleaned the area.
"The three children were all taken to Wishaw General Hospital and released following appropriate treatment.
"Police have since been liaising with addiction services in the area who have regular contact with drug users to highlight the dangers of this."
She added: "We would also encourage drug users to make sure of the needle exchange programme in the area - available at selected pharmacists and the HARM addiction team at North Lanarkshire Council.
"We can't say, however, if this was a malicious or indeed reckless act - the needle could have fallen out of someone's pocket.
"We would therefore urge anyone who has any information regarding this to contact police."