Student Bryan Simpson in court over Millbank protest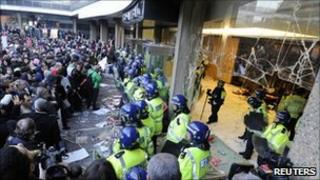 A student from Glasgow has denied violent disorder over attacks on the Conservative Party's headquarters at Millbank Tower in London.
Strathclyde University law student Bryan Simpson, 22, was among thousands who took part in a protest there in November over tuition fees.
During an appearance at Westminster Magistrates Court, he elected to have a crown court trial by jury.
He said he refused to be judged "by a magistrate who is on 180 grand a year".
During the student march, a number of protesters broke into Millbank Tower, caused damage and engaged in a four-hour standoff with police.
'Single incident'
Robert Short, prosecuting, said that Mr Simpson was "seen to be hostile towards police officers but not violent" as he joined a crowd that massed outside Millbank Tower.
He is alleged to have later thrown a megaphone towards police but missed - hitting a fellow protester in the head.
Mr Short said: "It seems to be a single incident, and a little later he poked and jabbed an officer."
Mr Simpson, who last year ran for president of his university's student union, is not accused of entering the building.
Although the prosecution asked for the case to be dealt with by a magistrate, the student elected to have a crown court trial by jury.
Addressing a rally of several dozen supporters through a megaphone outside court, he said that the protesters had been advised to opt for a magistrates' court trial, where sentences are lower.
He said: "Every single one of us is going to have a trial in the crown court.
"Our trial is not going to be heard by a magistrate who is on 180 grand a year, and has never understood welfare cuts and living on the dole."
Mr Simpson was ordered to appear again before the City of Westminster Magistrates' Court on 28 July for his case to be sent to the crown court.