Driver attempts to abduct girl, 14, in Rutherglen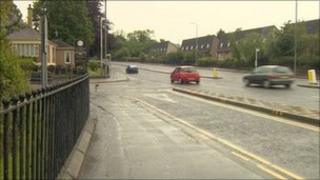 A driver tried to pull a teenage girl into his car in Rutherglen, South Lanarkshire, police have said.
The 14-year-old was walking home along Mill Street, near to Overtoun Park, at about 2200 BST on Friday when a green car pulled up beside her.
The driver tried to make conversation but when the girl ignored him he got out and tried to grab her.
Detectives said she did not need medical treatment, but had been left extremely upset and shaken.
They have appealed for witnesses or anyone with information about the car to come forward.
The girl managed to run off along Blairbeth Road and made her way home.
Det Con Colin McLean said: "It is vital we trace this man.
"The man approached the girl on Mill Street, near to the funeral directors. We are keen to speak to anyone who was in this area last night around 10pm.
"It was still fairly bright at this time last night so we are hopeful someone may have seen something that could assist the investigation."
The suspect was described as white, aged about 30 and had a medium build.