NHS Greater Glasgow and Clyde may scale back operations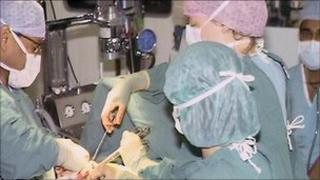 Quality of care will be maintained in NHS despite the financial pressures, the health secretary has insisted.
Her comments came after as NHS Greater Glasgow and Clyde is to consider cutting back on some surgical operations to save money.
It is looking at a proposal to reduce the number of so-called low gain procedures, such as removing tonsils and varicose veins.
Nicola Sturgeon said the effectiveness of treatment was always under review.
However, she said that did not mean patient care should suffer.
Scotland's largest health board, NHS Greater Glasgow and Clyde, is looking at ways to cut about £55m from its general revenue budget, and a raft of proposals are to be considered later this month.
A spokeswoman said: "This tough efficiency target can only be achieved by re-examining everything we do as we have no alternative but to find more economic ways of delivering health care, while at the same time improving quality of service and improved access targets.
"Reducing low health gain procedures such as tonsilitectomies, grommets, varicose veins, dilation and curettage and minor lumps surgery are included in these efficiency proposals."
Efficiency plans
The health board said the proposal had been brought forward in response to national guidance on the effectiveness of such procedures.
Speaking on BBC Radio Scotland the health secretary said maintaining clinical "quality and effectiveness" must be central to any decisions made.
Ms Sturgeon insisted the health board was only considering "proposals and not actual decisions".
She said: "The NHS doesn't stand still. There will always be debates, not just about the clinical effectiveness of particular procedures.
"And it goes both ways: many procedures done now would not have been contemplated some years ago.
"There will also be debates about whether certain procedures can be done as day cases rather than as inpatients, as it would have been some years ago. But the key consideration will always be clinical quality and clinical effectiveness."
She added: "There are pressures bearing down on the health service but we make it very clear that any efficiency plans have to be judged against that key consideration of quality and we will make sure that that is the case."