Hydro arena at Glasgow's SECC to open in 2013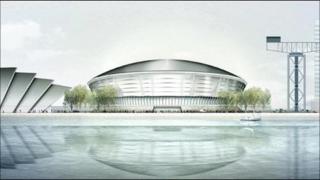 More details have been announced about the 12,000-seater venue being built at the Scottish Exhibition and Conference Centre in Glasgow.
It has been named the Scottish Hydro Arena and is due to open in 2013.
It is hoped it will be one of the world's busiest venues and contribute £131m annually to the Scottish economy.
Promoters said they hoped it would plug a gap in the music market which meant they were having to turn away acts like Beyonce and Barbara Streisand.
They said it would form a "cultural campus" with the existing SECC and Clyde Armadillo.
The arena expects to attract a million annual visitors to about 140 music, entertainment and sporting events.
Energy firm Scottish Hydro is sponsoring the venue.
It said it would put an annual £1.5m into the building over the next 10 years.
SECC chief executive John Sharkey said the arena would offer an "unrivalled programme of world-class events" complete with "iconic global artists and acts".
He added: "To be partnering with a successful and established FTSE top 30 UK brand with Scottish roots is part of our commitment to working with the best in the business.
"Scottish Hydro shares our vision for the new arena that will position Glasgow and Scotland at the forefront of the global events and entertainment industry."