Missing Glasgow businesswoman 'may have come to harm'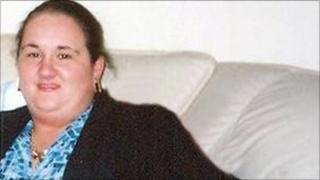 Police in Glasgow fear that a businesswoman who went missing two months ago may have "come to harm".
Lynda Spence, who is also known as Lynda Zejaf, Lynda Palmer or Lynda Reilly, was last seen on 13 April.
Det Insp Alan Buchanan, of Strathclyde Police, said the 27-year-old's financial business had hit problems.
He added that there was "serious concern" she may have "come to harm" at the hands of "persons she owed money to".
Det Insp Buchanan said that those to whom Ms Spence owed money were "both members of the community and people who would be of interest to the police."
He explained that the money owed by the businesswoman, who had been running mortgage advice firm Fraser Developments on Great Western Road in Glasgow, went into six figures.
After visiting her parents, Patricia and James, on 13 April, Ms Spence stayed overnight with a female friend in the Witworth Drive area of Maryhill.
She left that address around lunchtime the next day, saying she was travelling to London.
Ms Spence, who is 5ft 8in tall, of heavy build, with brown hair, has made no contact with either her mother or father.
At a news conference in Glasgow, her mother choked back tears as she asked for information about her daughter.
Mrs Spence said: "Lynda, if you are listening, please come forward to let us know you are safe and well. Can you go to any police station to let us know you are okay?
"You have nothing to worry about. Whatever has happened can be sorted. We just need to know that you are okay.
"Lynda, it's Father's Day this Sunday. Please let us know that you are safe and well."
Strathclyde Police said that in the days before she disappeared, she had not planned to travel to London.
Her car was seen in Ayrshire on 20 April, a week after she disappeared.
Damaged wing mirror
Ms Spence's old mobile phone was found in Ayrshire after she disappeared but police said she had not used it for weeks. It was discovered in a wheelie bin in Holmhead, Kilbirnie, on Thursday 2 June.
Her silver Vauxhall Astra was seen on the A77 in Floak, Ayrshire, on Wednesday 20 April. It apparently had a damaged wing mirror.
The police said that an "extensive police inquiry has been ongoing to establish Lynda's whereabouts but efforts so far have proved unsuccessful".
Ms Spence, who lives in Castlebank Street in Glasgow, usually wears her hair in a ponytail and has brown eyes and a tanned complexion. She has a scar under her eye and speaks with a Glasgow accent.
It is not known what she was wearing at the time of her disappearance but she is often seen in business-style dress.