Erskine Bridge plunge deaths inquiry hears from aunt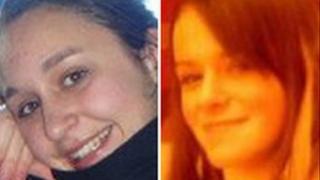 The aunt of one of two teenage girls who jumped from the Erskine Bridge has been giving evidence to the fatal accident inquiry into their deaths.
Tanya Oliver said she had looked after Georgia Rowe, 14, since she was a baby due to her mother's dependency issues.
She told the FAI about a note Georgia had written when she was eight which said she was going to kill herself.
Georgia, and Neve Lafferty, 15, plunged from the Erskine Bridge in an apparent suicide pact in 2009.
Both girls had been attending a nearby independent unit - the Good Shepherd Centre in Bishopton, Renfrewshire.
They were reportedly holding hands as they jumped.
Ms Oliver told the inquiry that Georgia's mother had five children and she had cared for three of them.
She said, even as a toddler, her niece had a different temperament from her brother and sister and showed signs of extreme attention-seeking from primary school age.
She also told of a note she had found that Georgia had hidden when she was eight years old.
In the note Georgia said: "I am going to kill myself soon, I am a cow and a bully."
Earlier the inquiry heard from the aunt of Neve Lafferty.
Ashley Bysouth said she has been very shocked to learn that three months before the 15-year-old died she has been transferred from a secure unit at the Good Shepard Centre to an open unit there.
The inquiry, in front of Sheriff Ruth Anderson QC, continues.