Driver jailed for teenager Craig Kirkwood's death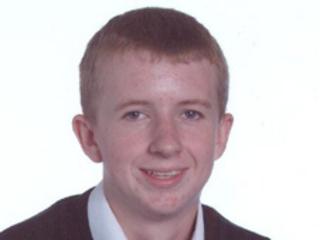 A man who knocked down and killed a schoolboy has been jailed for more than five years.
Martin Stewart, 25, drove into Craig Kirkwood near Irvine Beach in Ayrshire last June.
The 17-year-old, described as a "role model" to his family and friends, died after suffering serious internal injuries.
Stewart, of Dumbarton, admitted a charge of culpable homicide at the High Court in Glasgow.
He had originally faced an allegation of murder.
'Wholly reprehensible'
Craig died following the disturbance at Beach Drive, near the dunes in Irvine, on 26 June 2010.
He was among a group of 30 friends who decided to camp to celebrate the end of the school year.
Stewart and his family - along with other members of the travelling community - had been living at an unofficial site nearby for more than a week.
When some of the teenagers disturbed his community and shouted abuse during the early hours, Stewart got into his pick-up van and drove it at them, the court heard.
Craig, who "took no active part in what happened", was hit by the vehicle.
The court was told that Stewart and his family travelled to another campsite in Renfrewshire hours after the incident, where he was seen crying hysterically.
Prosecutor Andrew Miller said: "He told his wife he had been driving the vehicle, which had hit the boy, but he did not realise that he had hit anyone.
"It was after hearing about the boy being killed, he realised that it was he who must have done it."
The father of two eventually handed himself in to police.
In court, Judge Lord Turnbull said Stewart's conduct was "of an outrageous manner" and said the teenager's death was a tragedy that could not be undone.
Martin Stewart's lawyer told the court that he had been horrified at what happened.
Stewart broke down in tears as Lord Turnbull sentenced him to five years and three months.
The judge said the jail term would have been seven years but for the guilty plea and said he was guilty of "reckless and wholly reprehensible" conduct that evening.
But he added that no sentence could "alleviate the grief" felt by Craig's relatives at his tragic loss.