Uddingston woman assaulted on her doorstep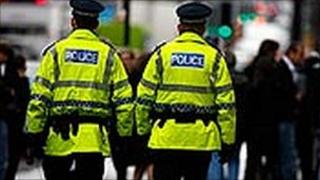 A woman was seriously assaulted on her doorstep in Uddingston on Wednesday afternoon.
Police said that at around 1300 BST, a man knocked on the door of the 41-year-old woman's home in Elmbank Avenue.
When she opened the door, he punched her in the face and threatened her with a knife. An officer said the attack was "extremely disturbing".
She suffered a slight cut to her face, but she did not require medical treatment.
The man is described as white, around 5ft 4in (1.62m) in height, aged between 35 and 40 years of age, with mousey-brown shoulder length hair.
Detectives said that he was wearing a denim jacket and denim trousers and his appearance was generally unkempt.
'Extremely disturbing'
Officers will continue to carry our door-to-door enquiries and will be collecting any CCTV images in an effort to gain more information about the man.
Enquiries so far have revealed that he may have been in the area previously.
Detective Constable Carolann Brown, said: "This is extremely disturbing and it's imperative we trace the man responsible.
"This lady has been left very frightened by what happened on her own doorstep and I would appeal to anyone who may have any information about this man to please get in touch.
"Please think back over the past couple of weeks. It's possible you may have seen this man in the area, perhaps he has come to your door.
"I would urge anyone with information, no matter how insignificant to get in touch, your information, could prove vital in helping us trace this man."