Wishaw woman robbed of internet sale pendant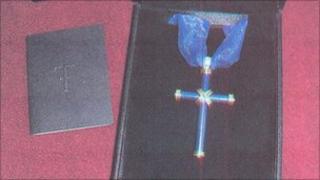 A woman was robbed at knifepoint by a man who came to her home to view a piece of jewellery she had advertised over the internet.
The attacker had contacted the 34-year-old to view the pendant, valued at about £2,000, at her house in Wishaw.
After seeing the necklace he threatened the woman with a knife, grabbed the pendant and ran to a waiting car.
Police said the woman was "very distressed" by the incident, which took place at about 2030 BST on Thursday.
"The pendant, which, although put up for sale, is a family heirloom, is described as blue and gold enamel cross with a diamond embedded at each point of the cross," said Det Con Angela Keatings from Wishaw CID.
"It has a blue ribbon and was in a black box.
"I would urge anyone that is offered this to buy, especially jewellers, or anyone who has any information about the robbery to contact Wishaw CID."
Det Con Keatings said the woman had been selling the pendant through a well-known online trading website.
"Whilst buying and selling items in this way is generally safe and the vast majority of people who do this are genuine, there is a minority who will abuse this service and people's trust," she added.
"For this reason, we would suggest that if you are selling items, particularly if they are valuable or moveable, that you do so somewhere you feel safe.
"For example, try and make the transaction in a public place where your security and that of the item is not compromised, or have someone with you."
The suspect was white, about 22 years old and of a slim build, with short brown hair. He was wearing a blue tracksuit.