Street artist Roadsworth paints Kirkintilloch red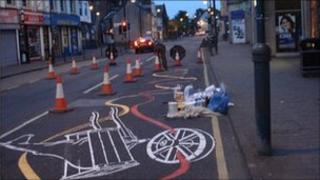 A Canadian street artist who paints on roads and pavements is helping an East Dunbartonshire town celebrate its 800th anniversary.
Peter Gibson, better known as Roadsworth, has been compared with Bansky.
He began painting the streets of Montreal to highlight the need for more cycle lanes in the city.
His latest project has been to create a series of paintings on the Main Street in Kirkintilloch.
Later the street will be closed off to cars and a special event, called G66, featuring bands and dance performances will take place as part of ongoing celebrations to mark 800 years since the town became a Barony Burgh.
Roadsworth has developed a cult following since he first began questioning "car culture" with his street markings done in a primary stencil style.
In 2004, the artist was arrested for his nocturnal activities and charged with 53 counts of mischief.
Despite the threat of heavy fines and a criminal record, he received a relatively lenient sentence which he attributes in part to the public support he received subsequent to his arrest.
Roadsworth told BBC Scotland his project in Kirkintilloch was quite different to a lot of his other work, which often takes place under cover of darkness.
"This project is not about breaking the law," he said.
"It is about working with the town council and the authorities to try and hopefully bring aspects of Kirkintilloch's history to the people of the town and to visitors.
"Working covertly and subversively you don't have the benefit of the road crew laying down cones and putting lights out for you so that's a big difference.
"I'm not looking over my shoulder every two seconds worrying about getting apprehended."
The artist's paintings in Kirkintilloch are inspired by some key events and moments in the town's history.
He added: "I think a lot of people, not just tourists, are not familiar with some aspects of the town's history, and the goal is to get people talking.
"And hopefully talking and walking as well.
"This art work is going to spread down the main street and throughout the town so hopefully it will encourage walking, and people slow their pace down a little bit and take time to appreciate the town's past."