Man sentenced for crashing car into living room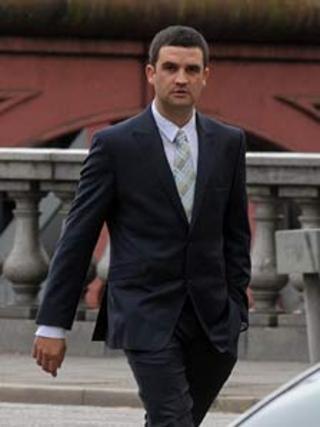 A man who crashed a car into a couple's living room during an argument at a Halloween party has been sentenced to two years probation.
Paul McGarrigle, 33, was also given 240 hours community service and told to pay £5,000 compensation to victims Gayle McQuilken and Allan Fleming.
He had been partying at a house on Findochty Place, Glasgow, when he rowed with the couple who lived next door.
Sheriff Bill Totten said McGarrigle's behaviour had been "outrageous".
Glasgow Sherriff Court heard that the row had escalated and after the pair left the party to get away from McGarrigle, he smashed a BMW through the front wall of their house.
The couple, who were in the kitchen at the time heard a "deafening bang" and returned to their living room to find a car sticking through the wall.
'Serious consequences'
Sheriff Totten said: "Your behaviour was outrageous, you appear to have taken complete leave of your senses that night.
"There is no hint of an excuse or rationale for what you did and there were obviously very serious consequences.
"There was considerable damage caused to the home of the two complainers and it is fortunate that you did not bring the entire front of the house down."
Sheriff Totten also placed McGarrigle on a curfew for 12 months and banned him from driving for 18 months.
At an earlier hearing, McGarrigle, admitted culpably and recklessly driving the car into the house on 31 October 2010.
He also pleaded guilty to refusing to complete several breath tests after he was arrested at the scene.
Prosecutor Steven Quither told the court that there had been "banter" back and forth between the couple and McGarrigle but shortly after midnight this turned sour and the couple decided to go home.
Mr Quither said: "The accused then asked one of his friends if he could have her car keys because he had left his phone in her car.
"She gave him the keys and the accused went into the car.
"He was then seen reversing it back a short distance on to the roadway and then revving up the engine and driving into the front of the house next door.
Mr Quither added that damage to the house was estimated at £20,000 because there had been a "ripple effect" on the adjoining house next door.
Defence lawyer Kenneth McGowan told the court that his client appreciated the damage he had caused and the distress caused to the couple.
Mr McGowan added: "He has fully expressed his insight into the consequences of these offences and has displayed a great deal of victim empathy."
The lawyer added that McGarrigle could no longer work as a van driver but his employers had agreed to give him a sales job instead.