Bridge fall girl Georgia Rowe 'had been happy'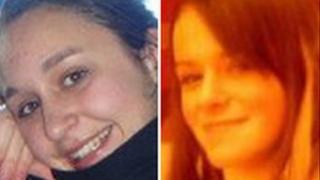 A girl who jumped with her friend from a bridge over the River Clyde was "happy" and "excited" just a month before she died, an inquiry has heard.
Social worker Susan Ainley told the fatal accident inquiry that she last saw Georgia Rowe "giggling".
On 4 October 2009, the teenager and her friend, Neve Lafferty, 15, died when they fell more than 100ft from the Erskine Bridge.
The details of the deaths are being examined at Paisley Sheriff Court.
Georgia, 14, from Hull, had been a resident at the Good Shepherd Centre in Renfrewshire and Ms Ainley had travelled from Hull to take her out for the day.
The pair went shopping in Glasgow on 9 September 2009, where they bought Georgia some new clothes and had lunch.
Neve was also a resident at the Good Shepherd Centre.
'Really happy'
At the fatal accident inquiry into the two deaths, Ms Ainley said: "She told me she was really happy.
"She was very happy that day. She was excited about being taken out.
"I took her back to the secure unit and we pulled into the car park.
"The other girls were all excited to see her and she ran back to them.
"She was really giggling and smiling.
"I just remember her walking away, and turning and waving, and then giggling back to the girls."
Procurator fiscal John Watt asked her: "Was that the last time you saw Georgia?"
Ms Ainley replied: "Yes. It was the last time I saw her."