Darren Smith jailed for murder of George Mathieson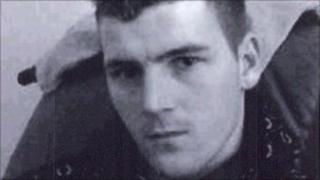 A man who stabbed his victim to death in a South Lanarkshire street has been jailed for a minimum of 19 years.
Darren Smith, 20, from Cambuslang, was convicted of murdering 22-year-old George Mathieson in Howieshill Road, Kirkhill, on 10 November.
He was given a mandatory life sentence at the High Court in Glasgow.
Smith was also convicted of assaulting his victim's brother, Mark, and of attempting to pervert the course of justice by washing the knife.
The court heard how Smith shouted at the Mathieson brothers and produced a knife during a confrontation.
They then chased him and threw stones but Smith stabbed George Mathieson in the chest and slashed his brother in the face.
He then chased them both before giving up. George Mathieson stumbled to a nearby pub for help but died a short time later in hospital.
Fifth conviction
Jailing Smith, judge Rita Rae QC noted Smith's "disturbing" pervious convictions.
"It reveals a man who habitually carries weapons and on occasion uses them for acts of violence," she said.
"This is your fifth conviction for the carrying or use of a knife and on this occasion it was with tragic and fatal consequences."
Judge Rae added: "If you had not chosen to arm yourself with a knife, carry it in the middle of the day and start trouble with the brothers, a young man would not have lost his life.
"You have ended a young man's life, causing considerable misery and distress to his family and those close to him. Despite this, you have, in my view, shown no remorse whatsoever for your actions."
As he was being led to the cells to begin his sentence, Smith clenched fist and shouted "easy days".
Mr Mathieson's family briefly commented that "justice had been done" as they left court after the hearing.