Strathclyde University approves cuts to courses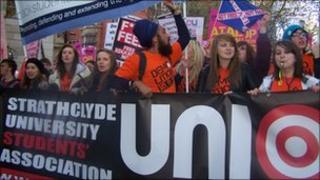 Proposals to cut some courses at Strathclyde University have been approved by the institution's governing body.
The university's court backed the "phased withdrawal" of courses in applied music, community education and geography.
Students have protested against the plans, which they said made "no sense".
Strathclyde said it would collaborate with other universities to meet the needs of students and employers.
A package of cuts was drawn up with the aim of makings savings of £12m.
Sociology had also been among the courses under threat but it will be "reconfigured" and continue as part of the university's social sciences portfolio.
The university said it was "reshaping its academic portfolio following extensive consultation with staff and students".
Spending plans
Strathclyde principal Prof Jim McDonald said: "A strong feature of the Scottish higher education system is its diversity.
"Each institution has a distinctive mission with Strathclyde pursuing its strategy as an international technological university.
"However, we are also committed to working with other universities and colleges to ensure that each of us plays to our strengths in order to provide access to a wide range of specific programmes and discipline-based education."
Strathclyde said it was in discussions with the University of the West of Scotland (UWS) about the development of a new youth and community education portfolio, to be offered by UWS.
The university said it was also discussing the opportunity to develop undergraduate education in applied music with UWS and it was taking part in a wider exploration with other HE institutions about how applied music programmes could be developed across Scotland.
Student leaders have claimed that it makes no sense to cut courses until the Scottish government announces its spending plans for higher education.
Charandeep Singh, the Students' Association president, said: "Today's decision by our un-elected Court, who have little insight into the vital importance these courses have, is a devastating blow for students past, present and future.
"Thousands of individuals have made representations to the university highlighting the excellence these courses portray, and the good they serve not just to students, but also the wider community.
"It is vitally important that our attention now turns to holding the university to account on the promises they made during this process - not least ensuring provision within the west of Scotland is retained in some form - and also that students are supported throughout the withdrawal of these courses, and that quality and excellence do not suffer. "