Orange Order deploys stewards for big Glasgow parade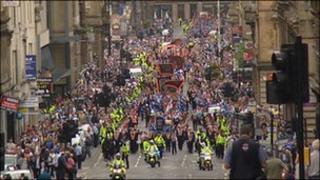 The Orange Order is to deploy its own stewards at this year's march through Glasgow so police can tackle disorder from those who follow the parade.
The Order has also agreed to an earlier finish to its traditional Glasgow Green rally at the end of the event.
This will mean the entire march is covered by one police shift.
Officers at Saturday's event will then have more time to tackle any drink-related disorder and anti-social and sectarian behaviour.
Last year, Glasgow City Council passed measures which would effectively limit the number of parades allowed on the streets throughout the year.
Budget pressures
It followed comments from the Strathclyde force that policing parades and marches in the city was putting already strained budgets under more pressure.
Following discussions between police and the Orange Order, new measures have been introduced this year in a bid to free up force resources to tackle disorder from those who follow the parades.
Assistant Chief Constable Campbell Corrigan said sectarian behaviour and public drinking at Saturday's march would "not be tolerated".
"Our officers will be briefed to target and arrest those who are committing these offences," he said.
"Public drinking in Glasgow is against the law and people who turn up with alcohol will have it confiscated and may be issued with a fixed penalty fine.
"Our priority is to keep people safe and we want to make sure the general public, including those taking part in the march, can come into Glasgow city centre without too much disruption or intimidation from excessive drunkenness or disorderly behaviour."
Henry Dunbar, Grand Master of the Orange Order, said he was fully supportive of the new measures being taken to manage the parade.
'Crucial changes'
"The Order is introducing a number of crucial changes designed to reduce the demands upon police time and free them up to concentrate upon the anti-social behaviour of a young element that has often been an embarrassment to us in previous years, as well as a blight on society as a whole.
"I call upon every member of the Order to enjoy the day with the utmost decorum.
"I also have a message to our more boisterous supporters - you are welcome, but please enjoy the music, colour and excitement of the march responsibly and leave the booze at home."
People driving in and around Glasgow city centre on Saturday are advised to follow directions given and to leave extra time for their journey.
Police said road users, residents, businesses and shoppers could "all expect some long delays" and should consider alternative routes for their journey during the marches.