New task force to tackle Glasgow's booze culture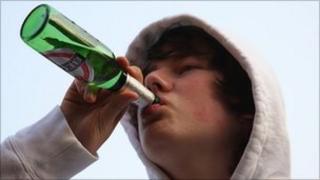 A multi-agency task force has been set up to tackle disorder and anti-social fallout from Glasgow's "booze culture".
The Joint Action Group on Alcohol will draw up proposals to cut underage drinking, binge drinking, anti-social behaviour and noise nuisance.
Police, the procurator fiscal service, city council and housing association staff are all involved in the project.
Alcohol is a common factor in the majority of murders, assaults and domestic violence incidents in Glasgow.
City council leader Councillor Gordon Matheson said: "Glasgow has a problem with alcohol - it's no secret, it's there for all to see.
"Families and communities all over the city are living with the day-to-day realities of alcohol abuse and what they are telling me is that enough is enough.
"So it is time to stand up for these communities. It's time to close the drinking dens, stop shopkeepers ruining our children's futures, crack down on those who think it's OK to drink on respectable people's street corners.
"It's also time for people to take responsibility - it isn't good enough to be a law-abiding citizen Monday to Friday and then binge drink at the weekend to the extent that you are a danger to yourself and others."
Mr Matheson said ordinary people were "clearly fed-up" with alcohol-related disorder and action was needed to protect Glasgow's reputation as a cosmopolitan city and centre for international tourism.
At its launch, the action group highlighted a number of statistics to reinforce the scale of the problem.
In almost half the cases of domestic abuse (46%) dealt with by the authorities, at least one person involved was under the influence of alcohol.
At present nearly 10,000 children in Glasgow are adversely affected by their parents' alcohol abuse, making them some of the most vulnerable in society.
In Glasgow, there were a total of 1,318 alcohol-related offenders under the age of 16 years in 2010.
'Blind drunk'
The same year, a total of 1,066 people were found drunk and incapable in the city. A significant proportion of them were repeat offenders.
Chief Constable Stephen House, of Strathclyde Police, said: "Alcohol is almost always a factor in serious violence and murders and lives are being ruined by people who are completely out of control because they've drunk way too much.
"Ask any of my officers, who have to deal with the aftermath, what they think the biggest problem is in our force area and all of them will tell you it's alcohol.
"People here set out not only to have a drink but with the intention of getting blind drunk - this booze culture has been accepted for too long."