Final push in Inverclyde by-election fight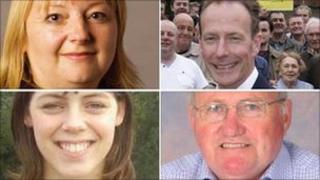 Campaigning in the Inverclyde by-election has entered its final hours, before voters go to the polls on Thursday.
Labour is defending a 14,416-vote majority in the Westminster seat, also being contested by the SNP, Tories, Lib Dems, and UKIP.
Jobs and the economy have emerged as key themes of the campaign.
The by-election is being held following the death of Labour MP, David Cairns.
Hitting the campaign trail, former Labour deputy prime minister Lord Prescott said: "Over a decade ago, I came here to announce that Labour would invest in regenerating the waterfront in Greenock and we kept our promises.
"New jobs at RBS, T-Mobile and others show that regeneration isn't just about making an area look nice - it's turning the old industries into the new, creating jobs and giving places a fair crack at the whip."
Meanwhile, First Minister Alex Salmond, the SNP leader, said his party had a real action plan to bring investment to Inverclyde and was committed to fighting for jobs.
Economic message
Recalling the SNP's historic Holyrood election win in May, he said: "Last month, people right across Scotland voted, many for the first time, to return the SNP to government.
"This by-election is a chance for local people to put Inverclyde at the front of this movement taking Scotland forward."
Scottish Conservative leader Annabel Goldie was campaigning with Tory candidate David Wilson, who said: "Voters need an MP who will rise above the party political bickering which has dominated too much of the Labour, SNP and Lib Dem campaigns.
"My rivals have been more interested in relentless negative campaigning instead of telling people about their vision for Inverclyde."
And, making his pitch for votes, Scottish Liberal Democrat MEP George Lyon, said: "Inverclyde has been taken for granted by Labour, and abandoned by the SNP - the SNP even cut vital regeneration funding to this area by a staggering 40% last year and refuse to apologise.
"Only the Scottish Liberal Democrats can truly stand up for this area."
Also focusing on an economic message, UKIP's Mitch Sorbie, said: "It's vital that we get jobs and we get jobs quickly - and we use the money that is getting wasted in Brussels, in the European Union, to invest back into Inverclyde to help stimulate the jobs market."
Polls open at 0700 BST on Thursday 30 June.