Police officers' convictions quashed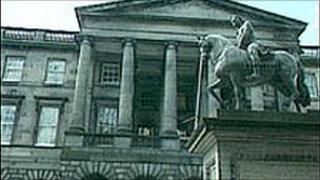 Two Strathclyde policeman have had their convictions quashed by appeal judges on a split decision.
Thomas Clark, 41, was convicted of attacking James Carrie and his colleague Andrew Glover, 29, was found guilty of assaulting Neil McCallum in 2008.
But they argued there had been a miscarriage of justice. Lord Osborne and Lord Marnoch granted their appeals.
A third judge, Lord Bonomy, said he could not support their views.
Clark was accused of assaulting Mr Carrie near Glasgow, in February 2008.
He was charged with seizing hold of his arm, forcing him to walk to a police vehicle, pushing him against it, forcing him to the ground, handcuffing and confining him in the van against his will.
He was also accused of perverting the course of justice over a police report containing false and misleading details.
'Insufficient findings'
Glover was accused of assaulting Mr McCallum during the same incident by seizing him by the arm, forcing him to walk to a police vehicle and confining him in it.
Both constables had denied the offences.
Clark was jailed for three months, but granted bail pending his appeal, and Glover was fined £1000 by Sheriff William Dunlop who said: "The reputation of Strathclyde Police has been tarnished."
The policemen had gone to an incident near Glasgow, on 16 February in 2008 after Mr Carrie's home and car came under attack.
Sheriff Dunlop said that when Glover told Mr Carrie that police had detained two suspects he replied: "I hope you have got them or I'll f---ing sort them out" or words to that effect.
The sheriff said he swore once and the comment was not directed at the officer but an argument broke out.
When Clark joined Glover he was told of the allegation that Mr Carrie had sworn at him.
Mr Carrie was arrested and after Mr McCallum protested to the police about their behaviour he was also arrested.
But at the Appeal court in Edinburgh, Paul McBride QC, for Clark, told the appeal judges that the sheriff had erred over whether the officer had a reasonable, albeit mistaken, belief that reasonable grounds for arrest existed.
He argued that there was insufficient findings to justify a conviction.
Lord Osborne said that Glover was an inexperienced officer and while his perception of the situation may have been misconceived that was very different from concluding that he acted in bad faith.
The senior judge said that Clark's actions had to be seen in the light of information that he was given by his colleague.
Lord Marnoch said it was "impossible to determine from the sheriff's findings exactly where the truth must be taken to lie".
Integrity intact
David Kennedy, of Strathclyde Police Federation, said: "Police officers have to act in good faith.
"It is part of what they are taught."
"If they do act in good faith they should not fear retribution and today highlights that."
A spokesman for Thomas Clark and Andrew Glover said: "We are pleased to note that the Appeal Court has quashed the convictions of these police officers who have been battling for two-and-a-half years to establish their innocence.
"The Appeal Court in a majority decision confirmed they acted lawfully and the result of today's decision leaves their integrity intact.
"Both officers look forward to continuing with their careers serving the public."