Teenager pleads insanity over Michael Davis killing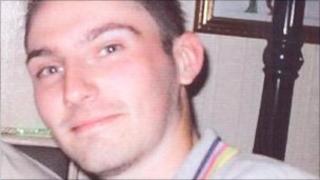 A teenager who killed a 21-year-old cleaner in Glasgow claims he was insane at the time and not responsible for his actions, a court has heard.
Tianhui Zhan, 19, is accused of murdering Michael Davis in the city's West Campbell Street last October.
At the High Court in Glasgow he pleaded not guilty to murder and has lodged a special defence of insanity.
The jury was read facts agreed by the Crown and defence in which Zhan admits that he stabbed Mr Davis to death.
A 16-page joint document read out in court states: "The accused approached Mr Davis and without provocation struck him repeatedly with the knife that he had purchased from Lakeland in Buchanan Galleries on 9 October 2010."
The jury was told that Mr Davis, who had just finished his cleaning job, was on his way to do a second cleaning job, when he encountered Zhan.
As he walked along speaking to a friend, Ronald Bain, on his mobile he was approached by Zhan who stabbed him three times.
Mr Bain told the court he heard his Mr Davis being approached by Zhan who asked him where the nearest cash machine was.
Mr Davis told Zhan he didn't know where a bank was and said he had to go to work.
When asked what he heard next Mr Bain said he heard a commotion then his friend said "I've been stabbed."
The court heard that after the attack Zhan fled on foot and Mr Davis managed to get to his feet and stagger back to the office.
He told his aunt Josephine McKinlay, who was working there: "I'm going to die Auntie Jo. It was a big knife."
Mr Davis was rushed to Glasgow Royal Infirmary but died from his injuries the following day.
The document read out to the jury revealed that Zhan, who was born in China and lived in Toronto, Canada, left his home on 20 September last year and travelled to Europe visiting Paris, Barcelona, Hamburg, Berlin, London and Glasgow.
The jurors were also told that while living in Canada he was diagnosed with bipolar disorder with psychotic feature.
Internet searches
The jury was told: "Although the accused could be aggressive and shout when he was mentally unwell, his behaviour did not include any physical violence prior to the killing of Michael Davis."
Zhan arrived in Glasgow in October last year and on the day Mr Davis died he was seen on CCTV cameras leaving his hotel in West Regent Street at 1920 BST.
Mr Davis was stabbed at 1928 BST and eight minutes afterwards Zhan was back in his hotel room booking a flight to take him back to Toronto via Amsterdam.
The court heard that the next morning he flew out of Glasgow to Amsterdam where he was held because he did not have a passport and was eventually extradited to Scotland.
The jury was also told that it is agreed that in the days leading up to Mr Davis' death Zhan carried out various internet searches.
These included UK murder sentences, murder, Glasgow police station, Paul Ferris, Glasgow jail, Glasgow gangsters and international arrest warrants.
Temporary judge Michael O'Grady QC told the jury: "This is an unusual case in that there is broad agreement about what happened on the day in question. This case will be about the state of mind of the accused."
The court has also been hearing from Zhan's mother Luqi Tan, 44, who said her son had run away the day he was due to be moved from a short term mental health residence to a long term one.
She added that they spoke on MSN messenger and she "freaked out" because she thought he was unwell and having "an episode".
She added: "He hated Canada and thought the Canadian people made him have a mental disability."
Mrs Tan also said she was worried because he refused to take his medication and doctors told her he could not be forced to do so.
Under cross-examination she told Mr McConnachie that her son was very paranoid and heard things and had imaginary friends.
The trial at the High Court in Glasgow continues.