Glasgow 'needs better world links', report says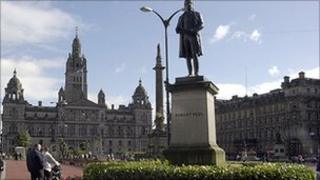 Glasgow needs to improve its links to world markets if it is to attract investment and return to rapid job creation, according to a major report.
The Glasgow Economic Commission, made up of business and academic leaders, has set out priorities for the city.
It called for more effective collaboration to exploit opportunities.
The sectors it highlights for future growth include low-carbon technologies, engineering, life sciences, finance, and tourism with major events.
The commission's analysis says high-speed rail, linking Glasgow with London, with a journey time of two and a half hours, needs an early start to planning and "may become a vital necessity" if air links become more constrained.
There is a call for the plans to build track from London to Birmingham to be matched with construction starting from Scotland, building the new line from both ends.
The commission also calls for government action to increase Glasgow's direct air links, after several years of it losing out to Edinburgh Airport and Ryanair focusing on Prestwick.
It warns that years of uncertainty over the future ownership of Glasgow Airport "does not encourage medium and long-term planning".
It also says the "polarised" party political division over the Glasgow Airport Rail Link - backed by Labour, while abandoned by the SNP government because of its cost - means there is a need to reassess the business case for it, as part of a wider review of how best to improve ground links.
While the economic commission says Glasgow's motorway developments give it a modern network, it says the other challenge to stay connected to markets is for Glaswegians to catch up with the rest of the country in its broadband access, and with a big step up in bandwidth to match similar cities overseas, rising from two megabits per second to at least 40.
The Glasgow Economic Commission was chaired by Prof Jim McDonald, principal of Strathclyde University, and included the chief executives of Clyde-based companies Weir Group, Edrington distillers and Tesco Bank.
Comparing Glasgow with the rest of Scotland and with similar cities in England, including Manchester, Birmingham and Leeds, the report highlighted particular problems on Clydeside such as the large proportion of people with no qualifications - a fifth of adults - and the low level of business start-ups.
The more positive messages were about Glasgow's large pool of graduates as an attraction for inward investors, with a third of the population educated to degree level, and with a very strong university research base.
The report also highlights the city's rapid rate of job creation before the downturn. Between 2000 and 2008, an extra 50,000 jobs were created, with more than double the rate of private sector job creation more than twice that of similar cities in England.
'Remarkable success'
The commission concluded there will have to be innovative funding efforts to make up the shortfalls in public capital projects, particularly to continue developments of the Clyde Gateway in the city's East End, waterfront and city centre.
"The city centre is Glasgow's shop window, and it needs to be well dressed and maintained," according to the authors.
Prof Jim McDonald said: "The commission has made a number of what it believes are challenging and transformational recommendations to the city and its economic partnership.
"The degree of engagement with the commission from industry, public and academic sector partners has been overwhelming and we believe bodes well for the city's economy."
City council leader Gordon Matheson, who received the report from the expert panel, said: "Glasgow's economy has been a remarkable success story over the last decade with investment, growth and employment all rising faster than our competitor cities.
"This commission will become the plan which will allow us to repeat that success over the next decade".