Serial robber Joseph McGarry to be monitored for life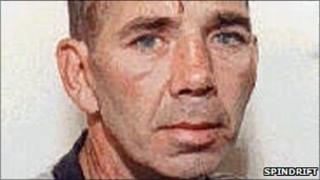 An armed robber twice freed early from lengthy jail-terms only to re-offend each time is to be monitored for life.
Joseph McGarry, 50, was found guilty of robbing a bookmakers, newsagent and two food retailers in Bathgate, Eaglesham and Glasgow in July last year.
McGarry had previously been jailed for 10 years in 1993 and 12 years in 2003 for a series of other robberies.
At Glasgow High Court, he was placed on an order for lifelong restriction and jailed for a minimum of five years.
The court heard how two years were added to McGarry's sentence in 1993 for a prison escape bid.
Early release
He was released early, but then went on to carry out a series of armed raids and was locked up for 12 years in 2003.
That term was due to expire in 2015, but he was again let out on licence in August 2009 having served just half the sentence.
Seven months later, while acting with 40-year-old accomplice, James Collins, McGarry held up staff at knifepoint at a Ladbrokes bookmakers in Bathgate, West Lothian.
They made off with just under £4,000 on 3 July 2010.
McGarry and Collins then robbed an RS McColl newsagents in Eaglesham, East Renfrewshire, on 15 July.
Just 24 hours later, they raided a Scotmid shop in Glasgow's Crookston area, emptying a safe of £3,500.
McGarry was also involved in an earlier robbery at a Farmfoods supermarket in the city's Knightswood, on 10 July.
Collins was earlier jailed for six years and eight months after he admitted his part in the robberies.
Jailing McGarry and placing him on an order for lifelong restriction, judge Lord Turnbull said: "The evidence (during the trial) displayed powerfully the contrast between the decent, mostly young people working long hours in poorly paid employment to better themselves, and you, who do not share the decency and honesty that underpins society."