Tianhui Zhan 'was insane' when he killed Michael Davis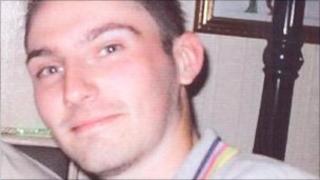 A murder trail has been told that a teenager who fatally stabbed a 21-year-old man in Glasgow city centre was insane at the time.
Psychiatrist Dr Ian Dewar told the High Court in Glasgow that he believed 19-year-old Tianhui Zhan's attack on Michael Davis was "illness driven".
Zhan admits stabbing the 21-year-old cleaner in the city's West Campbell Street last October.
He has pleaded not guilty to murder and lodged a special defence of insanity.
Dr Dewar, 44, a consultant forensic psychiatrist at the State Hospital, said: "I am of the opinion his offence was illness driven.
'Seriously unwell'
"He would not have been capable of determining what was right or wrong and should be considered as being insane at the time of the offence."
Dr Dewar added: "I just don't believe he would have committed this offence had he not been seriously unwell."
Under cross-examination by defence QC Brian McConnachie, Dr Dewar was asked: "The ladies and gentlemen of the jury have heard evidence from people who interacted with M Zhan and they considered him to be polite, well-mannered and with no evidence of mental illness, is that consistent?"
Dr Dewar replied: "Mr Zhan is quite adept at hiding signs of his mental illness from everyone he meets."
The court was told that initially Zhan was though to have bipolar disorder, but Dr Dewar said: "At the moment we think it's more likely to be a schizophrenic illness."
Earlier, Dr Dewar told advocate depute Derek Ogg QC, prosecuting, that Zhan had spoken to him about the events leading to the death of Mr Davis.
In a report prepared for the court, Dr Dewar said Zhan, told him that voices were instructing him to go to Glasgow. At the time Zhan was in London.
He flew from his home in Canada in September last year to Barcelona and then went on to Hamburg before heading to the UK.
Zhan claimed the voices also told him: "You have to buy knives to protect yourself."
He said he also headed to Glasgow as he could get a flight home to Canada from there.
Zhan claimed that when he arrived in Glasgow he saw blood everywhere.
'Limited recollection'
Dr Dewar in his reported added: "He started seeing blood over the faces of people and was convinced they were zombies.
"He said he bought a knife specifically for his own protection although he had never carried a weapon in the past."
The court was told that Zhan told the psychiatrist that he had limited recollection of what happened when Mr Davis was killed.
Zhan claimed that as he was speaking to Mr Davis he thought he was a zombie or a ghost.
He told Dr Dewar that he believed Mr Davis was going to attack him with a knife or a baseball bat, but now understood Mr Davis was making a phone call on his mobile.
Zhan said the voices were telling him: "Jeff if you don't kill him first he will kill you."
Dr Dewar said: "Mr Zhan didn't think he had done anything wrong."
The jury was told that after stabbing Mr Davis, Zhan made no attempt to go through his pockets looking for cash.
Dr Dewar told the court that Zhan had no history of violence, but had not been taking medication which had been prescribed for him in Canada.
The jury was told that Zhan had suffered psychiatric episodes since he was 14.
The psychiatrist added: "He found himself in a situation in which he was in a lot of stress. He was in a foreign country. He had no family or friends around and he had run out of money.
"It is reasonable to expect that the intensity of his symptoms would have worsened."
Mr Ogg asked Dr Dewar: "The jury is out in terms of his mental state at the time of the offences itself?".
The psychiatrist replied: "That's right."
The trial before temporary judge Michael O'Grady QC continues.