Firms fined £640,000 over Loch Creran barge deaths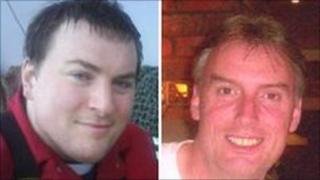 Two companies have been fined a total of £640,000 over the deaths of two men on a fish farm barge in Argyll.
Maarten Pieter Den Heijer, 30, and 45-year-old Robert MacDonald died on Loch Creran, near Oban, in May 2009.
Both men lost consciousness in a low oxygen environment below deck while trying to help a colleague who had passed out but survived.
Scottish Sea Farms was fined £600,000 and Logan Inglis was fined £40,000 over health and safety breaches.
Oban Sheriff Court heard how Scottish Sea Farms worker Campbell Files and engineer Arthur Raikes - employed by Logan Inglis - were fixing a hydraulic crane on the barge when they went below deck to find cabling and pipework.
Lost consciousness
The oxygen levels below deck were very low and Mr Files passed out while Mr Raikes managed to climb back out.
In an attempt to rescue Mr Files, his Scottish Sea Farms colleagues Mr Den Heijer and Mr MacDonald entered the small chamber below deck but lost consciousness almost immediately.
The three men needed to be rescued by emergency services but only Mr Files recovered.
Following the incident on 11 May 2009, inspectors from the Health and Safety Executive (HSE) discovered Scottish Sea Farms had failed to suitably prepare staff for working in the small, sealed chambers on the Loch Creran barge or a safe way for them to work.
Logan Inglis was also found to have failed in its duties to staff in terms of information provided and training.
Neither company had also identified the risk to their respective employees from working in the confined space chambers.
Speaking after the conclusion of the case, HSE principal inspector Barry Baker said: "These two men were trying to help save their colleague's life when they tragically lost their own.
"Aquaculture is an important industry in Scotland and one that we can be very proud of, however, we must not forget that the marine environment is dangerous and unforgiving.
"The deaths in this case should have been avoided - the risks should have been identified and a clear and safe system of work prepared.
"Only those fully trained in confined space work and emergency rescue should have carried out the work in the chamber, and only after a full risk assessment including air monitoring and testing for oxygen levels."