Erskine deaths inquiry: Staff had bridge safety fears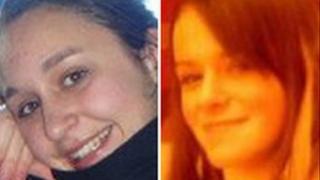 A girl who fell to her death from the Erskine bridge thought care staff would not approach her on the bridge because of safety fears, an inquiry has heard.
Neve Lafferty, 15, died along with Georgia Rowe, 14, after they plunged more than 100ft in October 2009.
Both girls were residents at the Good Shepherd care centre in Renfrewshire.
A fatal accident inquiry into their deaths was told that Neve had an understanding that staff would not come near her when she was on the bridge.
The teenager had been moved to the centre after her father, Paul Lafferty, said he could no longer cope with her and she refused to return to her mother's house.
Social worker Sandra Leonard said Neve had gone missing from the centre shortly after her arrival in July 2009, with some other girls from the home.
She said the teenager had intended to return to her hometown of Helensburgh in Argyll and Bute and had walked over the Erskine Bridge without staff stopping her.
She was later returned to the centre - but had formed the impression that staff could not stop her walking over the nearby bridge, Ms Leonard said.
She told the inquiry: "Neve had an understanding that they couldn't approach her when she was on the bridge.
"She was aware that they wouldn't approach her."
Ms Leonard said she understood it was part of the home's safety policy not to go near missing residents while they were on the bridge - but she was unable to elaborate on the reasoning behind this.
She said: "It was for the safety of the young person - how they might react."
The inquiry at Paisley Sheriff Court was told Neve would return to the home under the influence of drink and drugs.
'Temper tantrum'
Ms Leonard said she had been warned it was suspected the 15-year-old was drinking alcohol and taking morphine tablets while on visits to her father's house.
On one occasion, Neve was brought back to the Good Shepherd Centre from a police station after police found her in her father's home when she was supposed to be at the centre.
Ms Leonard said while Neve appeared to be making progress in terms of her emotional and psychological state while she was in the care home, in many ways she still needed support.
She said: "She would just react to situations. She was very impulsive. She would just see something was wrong and just start screaming. It was almost like a temper tantrum.
"She really needed support to calm down and think through her reactions. We didn't really move on from that stage."
The inquiry, before Sheriff Ruth Anderson QC, continues.