Ian McEwan on trial over death of Catherine Gibson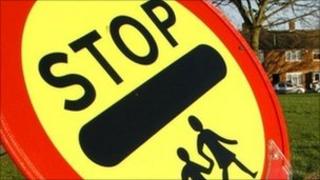 A lorry driver from East Ayrshire has gone on trial over the death of a lollipop lady in Glasgow's east end.
Ian McEwan, from Newmilns, denies causing the death of Catherine Gibson by careless driving in Fielden Street, near Parkhead, in January last year.
Witness Annette Shreenan told Glasgow Sheriff Court that Mr McEwan said after the crash that he "didn't see" the 59-year-old school traffic patrol officer.
The trial before Sheriff Sam Cathcart continues.
Mrs Shreenan told the court that she witnessed the crash while taking her granddaughters to school.
The 50-year-old said she saw Mrs Gibson at the opposite side of the road when she stopped at a pedestrian crossing and pressed the button.
Procurator fiscal depute Imran Bashir asked Mrs Shreenan: "What happened once it changed to green?"
The witness replied: "The lollipop woman stepped out to see us across and just at that the lorry started moving."
She told the court Mrs Gibson faced the lorry, put her hand up and walked backwards but it continued to move and she was caught underneath.
Mrs Shreenan added: "It just happened that fast and she was under the wheel."
The jury heard after Mrs Gibson was under the lorry, it stopped and a few witnesses, including Mrs Shreenan shouted.
Mr Bashir asked: "Did the driver say anything?"
She replied: "He opened his door and said 'I didn't see her'."
Luminous jacket
The court heard paramedics arrived a short time later.
Mrs Shreenan said she took her granddaughters to school after the incident.
Another witness, student nurse Jennifer McLaren wept as she told the court how she saw the lollipop lady caught underneath the lorry as she drove to university.
She told the court she saw Mrs Gibson in her car mirror as she waited in a queue at traffic lights.
She said: "I was looking ahead and it was in the rear view mirror that the yellow luminous jacket caught my eye."
The court heard the witness called an ambulance and went to see Mrs Gibson who was lying on the ground under the lorry.
Mrs McLaren said: "I was on the phone to the ambulance and the driver shouted out that he had phoned an ambulance already."
The witness also said that Mr McEwan was "very distressed" and that she asked him if he was okay.
The trial before Sheriff Sam Cathcart continues.