How Tall Ships are helping rejuvenate Inverclyde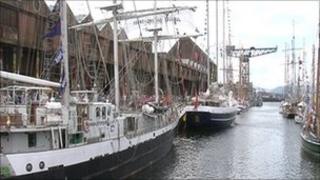 A combination of sunshine and intrigue brought more than 120,000 people out over the first two days of Greenock's Tall Ships celebrations, with more expected on the final day.
The port was the finishing line for a single leg of the race across Europe, involving more than 50 ships of many sizes which had set off from Waterford in Ireland.
The spectacle of giant masts and sails brought colour and bustle to these once busy docks - and the hope is that the event can help breathe life into them once again.
Once famed as an importer of sugar for the local Tate and Lyle factory, much of the dockland fell into decline. The arrival of the Tall Ships has provided a catalyst for regeneration.
The work is ongoing, but with many hundreds of homes already built, a new marina almost finished and the once dilapidated sugar sheds made water tight, much has already been carried out.
Boosting economy
About £180m is being spent on rejuvenating this area.
Councillor David Wilson, chairman of Sail Inverclyde, wants visitors who have not been to Greenock for a while to be wowed.
He told me: "We hope they go away with a different impression than they came with, because most of the people who come here are not from Inverclyde, they are from elsewhere.
"The buses, trains and cars are busy coming out from Glasgow, for instance, to have a look.
"We hope they will go back with a very warm feeling and will speak to other people they know and say things are happening down there in Inverclyde."
Well-known pop stars have also been working to pull in the crowds, with Lulu topping the bill on Saturday night.
A fireworks display and a performance by Deacon Blue will mark the culmination of celebrations on Monday.
Over the course of the three days, it is estimated £8m will be spent on the local economy.
Kenny Harris, the bosun of Spirit of Fairbridge, is a regular visitor to the dock with his training schooner.
He said: "We work a lot in partnership with a lot of local businesses... and it is just great to see them get a good bit of business out of it.
"For the whole of the economy of Greenock I just think it's fantastic."
Visitor Laura Taylor said: "I think it's going to bring a lot more tourists in.
"Obviously with us having the Commonwealth Games in Glasgow in 2014 those people will come into the outer stretches of Greenock now as well, so it's going to be fantastic."
The parade of sail in the Clyde takes place on Tuesday as the tall ships make their way north to Shetland, where the next leg of the race begins.
Tourists and residents along the west coast can expect to see them popping in and out of local harbours.