Elaine Doyle's father makes Crimewatch murder appeal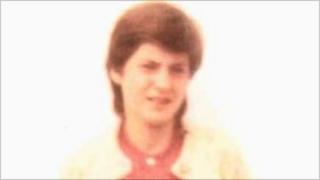 The father and best friend of a teenager murdered in Greenock 25 years ago have appeared in a BBC Crimewatch appeal.
Elaine Doyle, 16, was last seen with friends in the town's Hamilton Way, shortly after midnight on 2 June 1986.
Her body was found that morning in a lane off Ardgowan Street, close to her family home.
The case is among those being looked at by a new unit set up by Strathclyde Police to investigate old crimes.
Officers from the force also took part in the Crimewatch programme.
It featured a reconstruction of Ms Doyle's last known movements.
She had left her home in Greenock to go to a local disco, in Laird Street.
She rang her father, about 2030 BST from the club, to let him know that she would be home for 0030 BST.
When the disco finished, Ms Doyle and her three friends went to a mobile hamburger stall in nearby Cathcart Street.
'Beautiful person'
The stall and surrounding area were busy as the next day was a public holiday.
Shortly after midnight, she left the company of her friends and started to walk home.
A couple of hundred yards into her journey she bumped into two female friends and chatted with them, before continuing to walk home.
But, this was the last time Ms Doyle was seen alive and she did not arrive home.
A local man on his way to work found her partially-clothed body in undergrowth, within 50 yards of her family home.
A post-mortem examination revealed she had been strangled.
On the programme her father, Jack Doyle, and best friend Lynn Ryan, shared their thoughts, feelings and memories of the 16-year-old.
Ms Ryan said: "Elaine was fun-loving, caring. She was very, very funny. She was just a great, great person. She was beautiful. You would never meet another person like her.
"Somebody else knows. You can't keep a secret like that to yourself for 25 years."
Mr Doyle added: "We would like to put a face to that person. Who he is, why he would need to take Elaine's life?"
Crimewatch is available on the BBC iPlayer.