Fraud expert Gordon Murray jailed over £410,000 fraud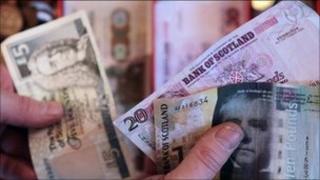 A fraud expert who admitted using his specialist skills to scam his employers of more than £400,000 has been jailed for three years and four months.
Gordon Murray, 30, from Airdrie, North Lanarkshire, encouraged family and friends to invest in a fake share plan.
This allowed him to use their bank accounts to deposit cheques which funded his "luxury lifestyle".
Murray was caught after an audit at his employers, National Farmer's Union Mutual (NFUM), uncovered discrepancies.
Glasgow Sheriff Court heard how Murray made a total of 156 fraudulent transactions, totalling £409,572, between July 2002 and January 2008.
He encouraged friends and family to invest in a share scheme with the NFUM and would pay dividends in return for their investment.
The fraudster then re-opened insurance cases where a claim had already been paid out and paid the money again to his unwitting family and friends.
They then cashed the cheques and took some of the cash for themselves before handing the rest over to Murray.
He also created false claims in the system and again made cheques out to his family and friends.
Two of the people he tricked into helping him were serving police officers.
The court also heard that the claims handler knew how to abuse the system because he had been trained in combating fraud.
He also issued cheques to repay creditors and spend on items such as cars, holidays and top-of-the range electrical equipment.
Company audit
The court heard that Murray also tried to conceal his involvement by using a colleague's password but was later found out.
Following a company audit in January 2008, he was suspended and later resigned.
The firm subsequently had to pay out £130,000 for the internal investigation and rectifying the damage done by Murray.
Passing sentence, Sheriff Sam Cathcart said: "This was committed by you while you were in a position of trust, not only as a claims handler but as a regional fraud co-ordinator.
"I was told as fraud co-ordinator you received training, and whatever the background, you exploited loopholes in your employer's operating system for your own benefit."
He added that it was "particularly despicable" that Murray had used a colleague's computer to try and conceal his involvement.
Murray was told he would have been sentenced to five years if not for his plea of guilty.