Erskine deaths inquiry: Girls fell in 'controlled' way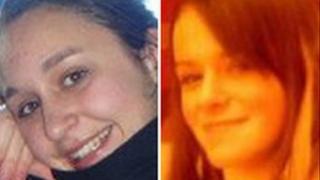 A man who saw two girls plunge to their deaths from the Erskine Bridge has told how they fell "in a controlled manner" like "divers going off a boat".
Gary Cronin was giving evidence to a fatal accident inquiry into the deaths of Neve Lafferty, 15, and 14-year-old Georgia Rowe on 4 October 2009.
The teenagers died after plunging more than 100ft from the bridge in an apparent suicide pact.
Both were residents at the Good Shepherd care centre in Renfrewshire.
Mr Cronin, a Ministry of Defence firefighter, was driving across the bridge when he saw the girls sitting on the outer railing with their backs to the water.
'Pitch black'
He told the inquiry at Paisley Sheriff Court that they fell backwards in a "very controlled" manner.
Mr Cronin stopped his car and ran to look over the edge of the bridge but could see nothing as it was "pitch black", the inquiry heard.
Mr Cronin was driving from the Renfrewshire side of the river to the Dunbartonshire side when he saw the two fall.
He told the inquiry: "I was travelling across the bridge and I said to my girlfriend 'look at the beautiful view' and she looked to the right.
"I looked forward and I saw two figures arm-in-arm and instantly they just fell backwards in a very controlled manner.
"It reminded me of two divers going off a boat."
Asked whether there was anything to suggest it was not a deliberate action, he replied: "Not at all. It looked to me like two people in a very controlled manner decided to go off the bridge.
"I said to my other half 'oh my god, two girls have just gone off the bridge'."
When he stopped the car, his partner, a nurse, rang emergency services and police took a statement from him later that evening.
Mr Cronin said he could tell the pair were young girls, under the age of 20, and that one of them was wearing a white top.
They were sitting almost in the centre of the bridge on the western side, he said.
The inquiry, before Sheriff Ruth Anderson QC, continues.