Erskine deaths inquiry: Recommendation over secure unit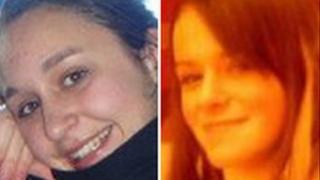 A teenage girl who fell to her death in an apparent suicide pact had been recommended to stay in a secure unit, a fatal accident inquiry has heard.
Neve Lafferty, 15, and 14-year-old Georgia Rowe, died after falling from the Erskine Bridge in October 2009.
Both were residents at the Good Shepherd care centre in Renfrewshire.
The inquiry at Paisley Sheriff Court was told that Neve's designated social worker had recommended that she stay in the secure unit within the centre.
The inquiry heard that Deborah Wicks had written a social background report about Neve which said she "was not ready to make positive decisions for her safety" and that she had "thrived in such a rigid environment".
Local resource
Neve, from Helensburgh, was put in the secure unit in March 2009, after her boyfriend died.
The social background report, written in June 2009, was read out at the hearing.
It recommended that Neve remain in the secure unit until a place became free at the Good Shepherd's closed support unit.
But at a meeting of the resource panel, made up of managers at Argyll and Bute Council, it was suggested a local resource should be found to meet Neve's needs.
The inquiry heard from Joy Daniels, the council's children's manager for the Helensburgh and Lomond areas.
She said: "Any child who was at risk would be brought up at the resource panel meetings to discuss their progress.
"It was suggested that a local resource be found for Neve, which would meet her needs and have similar outcomes."
The inquiry also heard that Ms Wicks refused to attend a hearing of the children's panel which followed, as it did not follow her recommendation.
Neve was sent to the East King Street centre in her home town of Helensburgh.
The hearing continues.