Rangers fan pays £1,000 for 1920s Ibrox seat at auction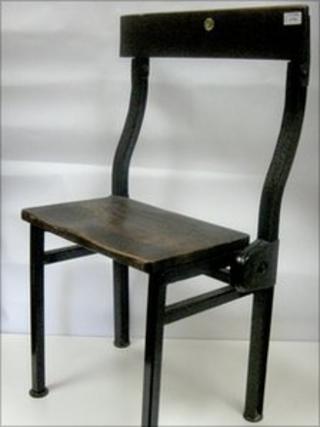 A Rangers fan has paid £1,000 for a seat from Ibrox stadium thought to date from the 1920s.
The historic piece of memorabilia was on offer in Glasgow after it was entered to an auction house by an anonymous seller.
The oak and cast-iron seat No 258 was bought by Rangers fan Darrin Gibb.
A combination of a hammer price of £900 and the 18% buyer's premium and VAT took the total to £1,080, well above the estimated price of £300.
The seat had been retrieved when Ibrox was being upgraded in the 1970s.
Father-of-two Mr Gibb, who is 46 and from Motherwell, Lanarkshire, said: "I saw it earlier in the week and thought I would come along to the auction.
"I have been a Rangers fan since I was a boy and I always wanted a seat at Ibrox. Now I've got one for life.
"People were congratulating me after I bought it. It's going to go in my living room and I'm going to watch the football while sitting on it."
McTear's Auctioneers said they were "inundated with inquiries" about the lot before the sale.
Managing director Brian Clements said: "The seat is associated with an important period in Rangers' history and we were not surprised that it attracted so much attention prior to the sale.
"There was some fierce bidding on the night and we are delighted that it made such a good price."