Fire death victim Thomas Sharkey was talented golfer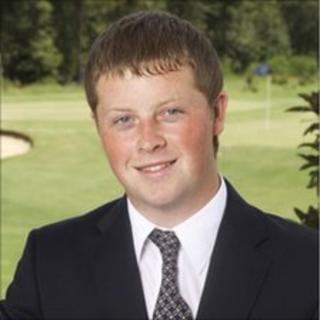 A man who died in an early morning flat blaze along with his sister was a talented golfer studying in the US.
Thomas Sharkey, 21, was a sophomore at Georgia Southern University and was holidaying at his Helensburgh home when the tragedy happened.
On the university's website the former Our Lady and Saint Patrick's High School pupil described himself as "ambitious and competitive".
Mr Sharkey's sister Bridget, aged eight, died as a result of the fire.
Their parents, Thomas and Angela Sharkey, are seriously ill in hospital having suffered severe burns.
It is understood Mr Sharkey Jnr - whose friends have set up a Facebook tribute page to him - won a scholarship to study sport in the US in 2009.
He states online that his grandfather and father had been the biggest influence on his athletics career "for teaching him the game of golf".
Chris Blair, of Georgia Southern University's Eagle Athletics, used his Twitter feed to express his "heartfelt condolences to the family and friends of Thomas Sharkey".
Mr Sharkey's father is well known in the Helensburgh area for his charity work.
He is one of the organisers behind the Smiles for Life group which raises money for local good causes.
The 55-year-old is also a singer performing in the Frankie Miller Tribute act, "The Midget Millers".
However, Mr Sharkey had also been known to the police.
Helensburgh councillor Al Reay told BBC Radio Scotland's Good Morning Scotland programme: "It's certainly the case that Mr Sharkey does have a background.
"He did spend some time in prison but since he left prison he's done a lot of good work in the town - raising funds for the Yorkhill children's hospital and the armed forces veterans organisation and other worthy charities."
The councillor also said that Mr Sharkey had been granted a license to operate a pub in the town.