Michael Morrison drowned ex-fiancee Sharon Brown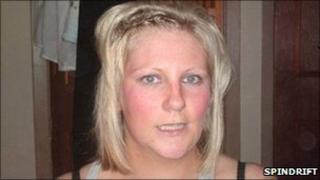 A man is facing a life sentence for drowning his ex-fiancee in a bath after she told him she loved another man.
Michael Morrison held Sharon Brown's head under water at her home in Clydebank in December while her two children were in the property.
The High Court in Glasgow heard one of the children told police: "Mummy is asleep in the bath".
Former nightclub bouncer Morrison admitted murdering the 27-year-old nurse. He will be sentenced next month.
The court heard that Morrison and Miss Brown had previously been engaged to be married before their two-year relationship ended on 3 December.
'So hurt'
It emerged the mother-of-two had started dating another man, Raymond Cossar.
The court heard that a week later, Morrison told a friend: "I'm so hurt by what she has done. They are laughing at me. They have got to be punished."
The next day, he told another man: "I could kill her for what she has put me through."
On 12 December, Morrison told a friend that he was going to pick up his young son and take him to see Santa.
He had been due to go with his mother, Anne Riddell, but texted her to say that he was unwell.
Morrison then went to Miss Brown's home in Bell Street, Clydebank.
About midday, Morrison called for an ambulance and told the operator: "Tommy D killed my girlfriend. She is lying in the bath."
Medics soon arrived and found Miss Brown in a bath of water which was stained red. She was also found to have a stab wound to her neck.
Police attended and discovered one of the victim's young boys wandering around the house.
'Mummy asleep'
Prosecutor Kath Harper told the court: "The child said: 'Mummy is asleep in the bath'.
"The children were then kept in the living room where they were cared for."
Miss Brown - who worked as an auxiliary nurse at the city's Gartnavel Hospital - was pronounced dead at the scene.
It was later found that she had died as a result of being drowned.
Morrison, from Glasgow's Knightswood area, initially claimed to officers that he "did not know" what had happened to Miss Brown.
The court heard that two days after the killing he told his mum - while on remand in Greenock Prison - that he had stabbed Miss Brown and drowned her.
He then wrote a letter to his aunt May Riddell weeks later in which he admitted stabbing Miss Brown, but this time claimed he had tried to get her out of the water.
It read: "She was splashing me and telling me what she was getting me for Xmas - then she changed the conversation and started talking about him.
Knife threat
"She said: 'I have been seeing Raymond on and off for six months and I love him. We then started arguing."
Morrison claimed he grabbed a knife to give Miss Brown a "fright" but that the blade went into her neck.
He went on: "I gave her a kiss and a cuddle - told her I loved her and told her I was going to get help."
He said he sat Miss Brown up in the bath and he left the property.
When he returned, Morrison alleged her body was now submerged in the water and he moved to get her out.
He claimed Miss Brown must have drowned while he was outside waiting for an ambulance.
The court was also told that Morrison later confirmed to a psychiatrist that he had made up a character called 'Tommy D'.
He told the doctor: "It was anger...a bad reaction. She had thrown me out and I was angry as she was having an affair. I deeply regret it. Nobody deserved that to happen."
Morrison was previously avoided a prison sentence in 2009 for embezzling money while working for Morrisons supermarket chain.
He is due to be sentenced for Miss Brown's murder at the High Court in Edinburgh next month.