Green light for Loyalist marches near Celtic Park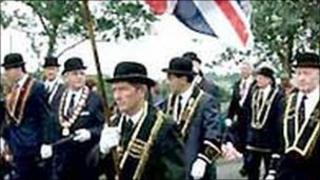 Councillors in Glasgow have given the go-ahead for Loyalist marches to take place near Celtic Park on a match day.
The Royal Black Institution wanted to hold four marches in the city's east end on 13 August - shortly after the end of Celtic's game against Dundee United.
Police opposed this on public order grounds and wanted the marches moved to an alternative date.
In a compromise, the marches will go ahead while the Celtic game is played.
The Royal Black Institution wanted to hold the marches on routes near Celtic Park at 17:15.
Thousands of football fans would have been in the area at the time with the Celtic v Dundee United game due to finish at 16:45.
Strathclyde Police opposed to the marches going ahead on the proposed date and time.
Resource concerns
The force felt its resources would be stretched enough in policing the football match and the World Pipe Band Championship at nearby Glasgow Green.
It also felt there would be a potential for disorder if the marches were staged near fans leaving Celtic Park.
During discussions with the council, the Royal Black Institution proposed moving the marches until 15:45, which would have meant them starting and finishing outwith football traffic times.
Police initially said this would not be practical due to commitments at the pipe band event.
The Royal Black Institution also said it could not move the march to a later time, as it had done on previous years when a Celtic game was being played, as the council's own policy did not allow music to be played on marches after 18:00.
The situation looked to be deadlocked when it came before Glasgow City Council's public processions committee on Thursday.
A compromise has now been reached and the marches will go ahead on 13 August at 15:15 and 15:30 - while the game at Celtic Park is being played.