Millet painting on public show at Kelvingrove Museum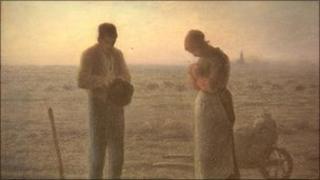 A painting by the French artist Jean-François Millet, which has not been seen in public for more than a century, is due to go on display in Glasgow.
The pastel - The Angelus - will hang in the city's Kelvingrove Museum for the next four months. It shows two workers praying in a French potato field.
The work was given to Glasgow Museums in lieu of tax by the government.
The oil painting of the same name hangs in the Musee d'orsay in Paris alongside Millet's best known works.
The pastel version has been part of a private collection in Scotland since 1906.
Councillor George Redmond, chairman of culture body Glasgow Life said: "Kelvingrove Art Gallery and Museum will be the perfect home for this beautiful pastel.
"It follows the hugely successful display of Titian's Diana and Acteon last summer and has extra importance as it appears likely Kelvingrove is offering people their first chance in exactly 100 years to come and see this pastel."