Scot attempts eight-peak challenge after 80th birthday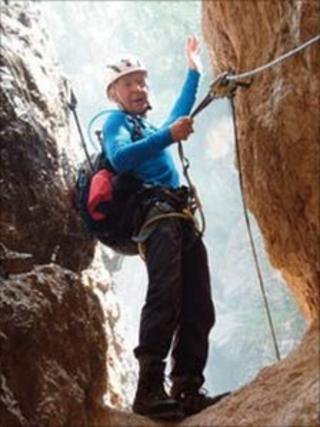 A man from Cumbernauld is to attempt eight climbs in eight days in the Italian Dolomites, just three days after his 80th birthday.
Lorne Brown intends to scale the dramatic heights using the Via Ferratas or "iron roads" on 2 September.
These will take him up overhanging cliffs and precipitous slopes to the high and most dangerous parts of the Dolomites.
He will be raising money for Guide Dogs for the Blind Association.
By a coincidence the charity is celebrating its 80th anniversary this year.
A Via Ferrata is a mountain route which is equipped with fixed cables, stemples, ladders, and bridges to assist climbers.
Allowing only eight days for the eight climbs, in what he terms the "8x8 challenge", Lorne hopes to raise £8,888 for the guide dog charity.
'Bit daunted'
Each day he will have to walk and climb about 3,000 feet (900m) - the height of a Munro - to get to the start of each Via Ferrata.
He will then don a safety helmet, harness, karabiners and safety kit before clipping on to the first cable and setting off.
Mr Brown, who lives in Dullatur, explained why he was doing the climbs for Guide Dogs for the Blind.
"If we didn't have guide dogs all these people would be sitting at home going nowhere," he said.
"A dog can take them out and help them take part in everything that is going on."
He added : "I'm a little bit daunted by the challenge but I wouldn't do it unless I thought I could do it.
"I've been going to the gym three days a week and climbing once or twice a week to make sure my muscles and stamina get stronger."