Outbuilding collapses in Victoria Road, Glasgow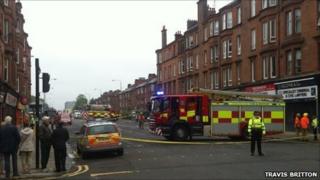 Residents and businesses were evacuated after an outbuilding collapsed near Victoria Road, in the Govanhill area of Glasgow.
Emergency services were called to the scene at about 1800 BST.
The first-floor drying area of a four-storey tenement partially collapsed, and falling masonry damaged the roof of a single-storey snooker hall.
Strathclyde Police said no-one was in the building and there were no casualties.
A spokesman said nearby buildings were evacuated as a precaution.
Travis Britton was walking near the road with his girlfriend when they saw "a tonne of bricks on the floor".
"It looked as though they had been blown out by an explosion but we weren't sure what was going on," he said.
"The fire brigade was there and people from nearby houses and businesses were being evacuated."
A spokesman for Strathclyde Fire & Rescue said firefighters were working to stabilise the snooker hall to prevent any further structural damage.
Building control officers from Glasgow City Council were also at the incident to assess the stability of the structures.
Gas and electricity workers were also at the scene.