Glasgow City Council drops George Square Hogmanay party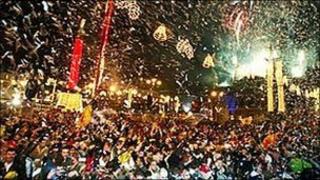 Glasgow's traditional Hogmanay party in George Square has been scrapped after the city council decided it was no longer delivering value for money.
Instead, the focus will switch to family-friendly events aimed at boosting the day and nighttime economy.
This year's event will finish at 22:00 and feature music, ceilidh dancing and curling on the George Square ice rink.
The council said with services under pressure it was "imperative that we get the best bang for every Glasgow buck".
Value concerns
Council leader Gordon Matheson said: "At the moment we are being asked to justify spending £34 of public money per head on an event which just isn't delivering value and indeed received a fair amount of negative feedback last year."
He added: "This is on top of the £19 ticket price we are asking the public to pay.
"Contrast that with the free fireworks display in November which costs the council just £1.50 per head, or the hugely popular Christmas lights switch on which costs £6 per head to stage, and I think most people would agree that Hogmanay in the Square is not good value for money."
Glasgow's traditional Hogmanay celebrations attracts 4,500 to George Square but the council said this was only "a fraction of those out and about in the city" to celebrate the New Year.
The council now plans to focus resources on the existing "Glasgow Loves Christmas" events across the festive period.
This will dovetail with a "Glasgow Loves Hogmanay" series of events on 31 December which will be co-ordinated with the city's hospitality industry.
The aim is to create a family day in George Square rather than a one-off party.
Councillor Matheson added: "At a time when frontline services are under extreme financial pressure it is imperative that we get the best bang for every Glasgow buck and that is not what is happening at the moment."
He added: "The change means that the ice rink and all the other hugely popular attractions in George Square can be open to families and visitors on Hogmanay and New Year's Day which previously hasn't been possible for operational reasons.
"With special Hogmanay events up until 10pm, such as curling on the ice rink and a ceilidh, George Square will have a welcoming family feel to it throughout the New Year period."
The decision to ditch the traditional Hogmanay party has been backed by Glasgow Chamber of Commerce.
Commercial director Richard Muir said: "The entertainment economy is a priority sector for us with our bars, clubs, restaurants and other venues estimated to generate £600m for the local economy and employing almost 30,000 people throughout the city.
"By promoting Glasgow as a destination we can encourage locals and visitors to use the wide range of top-class facilities, enjoy themselves during their stay and to visit again."