Glasgow police warn of fake £20 note scam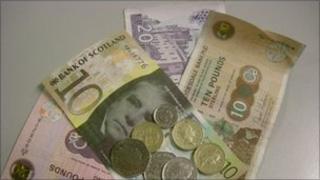 Fake Royal Bank of Scotland £20 notes have been used to buy electrical goods from members of the public, Strathclyde Police have warned.
Most of the incidents took place in the north of Glasgow, and involved mobile phones and computers.
They had been advertised in Ad Trader and on the website Gumtree.
In each case, the woman who agreed to buy the goods paid for them with cash which contained only a small number of genuine notes.
The woman is described as a white Scottish female in her early 30s, 5ft 9in (1.75cm) tall with brown hair.
Det Sgt Thomas McKean, of Strathclyde Police, said: "I would ask the public to be very careful when receiving cash in payment for goods they have advertised for sale, especially if they are given Royal Bank of Scotland £20 notes.
Genuine Scottish banknotes have a watermark, which is hardly visible until it is held up to light.
Each note has an individual serial number and fluorescent features which only show up under ultraviolet light.