Carrier section leaves Govan shipyard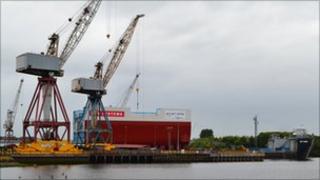 The largest section to date from the UK's first Queen Elizabeth class aircraft carrier has been moved on to a barge on the River Clyde.
The 8,000-tonne mid-section of hull has been lowered on to a sea-going barge.
This specialist vessel is one of only two in the world and this is the first time it has been on the Clyde.
The barge will make a 600-mile (965km) journey from BAE Systems at Govan to Rosyth for the next stage in the carrier's assembly.
Parts for the 65,000-tonne ship have been built at six shipyards around the UK.
When assembly is completed at Rosyth, HMS Queen Elizabeth will be a 280m (919ft) long carrier capable of deploying up to 40 Lockheed Martin F-35 aircraft.
The ship will not be completed until 2016 at the earliest, and may not be ready for active service until 2020.
The carrier project is one of the largest defence orders ever placed in the UK, with a price tag of £5bn.
About 10,000 workers have been employed around Britain to work on the carriers, with a further 25,000 building components for the F-35 aircraft.
The mid-section of HMS Queen Elizabeth will leave the Clyde on 16 August.
Work on its sister ship, HMS Prince of Wales, has already started at the Govan yard.