Royal Navy rescue helicopter targeted by laser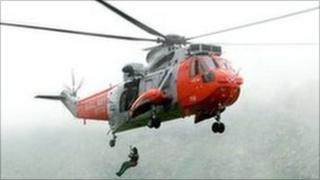 A Royal Navy search and rescue helicopter has been targeted by a "powerful laser" while responding to an emergency call in North Ayrshire.
The laser was shone into the cockpit of the Sea King Mark 5 while it supported an operation to recover a woman from the water at Saltcoats on Monday night.
The incident is said to have caused the crew "considerable distraction".
The Royal Navy described the targeting of the crew as "extremely reckless and irresponsible behaviour".
The aircraft, from HMS Gannet at Prestwick, was called to the rescue operation in Saltcoats at about 22:00.
Safety threat
The crew were targeted while on standby to offer medical assistance as police and coastguard personnel recovered a woman from the water.
Lt Cdr Geoff Richardson, aircraft commander for the call out, said: "Potentially this was a very serious incident.
"Not only is it illegal to endanger aviation in this way, it is extremely reckless and irresponsible behaviour. This incident could have threatened the safety of the crew and aircraft.
"Had we been in the middle of a rescue, this person's actions could have jeopardised our ability to continue.
"This could have a disastrous effect on the person or persons requiring urgent help from the SAR and emergency services."
The Royal Navy said the incident had been reported to Strathclyde Police.