Ian McEwan fined £500 over lollipop lady's death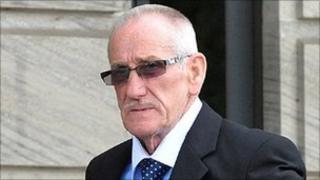 A lorry driver who knocked down and killed a lollipop lady in the east end of Glasgow has been fined £500.
Ian McEwan, 66, knocked down Catherine Gibson, 59, on a pedestrian crossing near Parkhead in January last year.
He was accused of causing death by careless driving but a jury at Glasgow Sheriff Court returned a not proven verdict to the charge last month.
Instead, the jury found him guilty by majority of a less serious charge of careless driving.
Passing sentence Sheriff Sam Cathcart told McEwan: "The sentence I will impose must reflect the jury's verdict."
McEwan was also given five penalty points.
Fatal injuries
The HGV driver, from Newmilns, East Ayrshire, was at the wheel of the lorry when it struck Mrs Gibson as she stepped on to a pedestrian crossing on Fielden Street on 14 January 2010.
Cordia employee Mrs Gibson, from Glasgow's Dennistoun area, was taken to hospital but later died from her injuries.
Annette Shreenan, who was walking her two granddaughters to school that day and saw McEwan run over Mrs Gibson, gave evidence at his trial.
The 50-year-old claimed she saw the lorry stopped at the pedestrian crossing when she arrived there, but that it started to move when Mrs Gibson stepped on to the road.
She told the court Mrs Gibson faced the lorry, put her hand up and walked backwards but it continued to move and she was caught underneath.
Driver 'devastated'
The jury heard after Mrs Gibson was under the lorry, it stopped and a few witnesses, including Mrs Shreenan shouted.
In his evidence, McEwan claimed his lorry stopped on the pedestrian crossing before the incident and that he did not see Mrs Gibson before she was under his truck.
He told the court he did not think it was possible for anybody to walk round the passenger side of the lorry.
The court heard also heard he has been left "devastated" by the incident.
It was said on behalf of McEwan that he has "sincerely and deeply held regret about the consequences of the accident and the memory of which will remain with him".