Kriss Donald murder appeal judges call for inquiry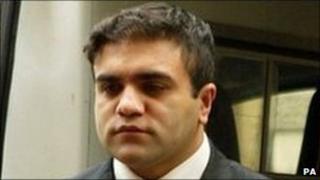 Judges have called for an investigation into fabricated evidence after rejecting an appeal by the killer of Glasgow schoolboy Kriss Donald.
Imran Shahid and three other men carried out the racially-motivated murder of the 15-year-old and set him on fire in March 2004.
Shahid, 34, claimed that new evidence on a mobile phone would clear him.
But appeal judges believed the evidence had been fabricated - and called for an investigation into how it was obtained.
Shahid, his brother Zeeshan Shahid and Faisal Mushtaq were all sentenced to life in November 2006 after being found guilty of murdering Kriss.
Avenge insult
He was said to have led the gang which snatched Kriss because he was white and Shahid wanted to avenge some earlier insult outside a Glasgow city centre night spot.
Shahid was ordered to serve a minimum of 25 years for the murder - his brother received a minimum of 23 years and Mushtaq 22 years.
Mushtaq and Zeeshan Shahid abandoned their plans to appeal against their minimum jail terms in 2009.
As part of his appeal, Shahid claimed that Daanish Zahid, who was also convicted of the murder in separate proceedings, was frightened to name the perpetrators at his trial.
It was alleged that Daanish Zahid, 26, who is serving a minimum of 17 years for his part in the killing, was bullied and threatened into giving false evidence.
Daanish Zahid told the Court of Criminal Appeal in Edinburgh he was so frightened that he had entered a series of text messages into a mobile phone in case anything happened to him.
The texts, supposed to have been keyed in immediately after the murder, go on to say that he was forced to drive the car when Kriss Donald was kidnapped and murdered - and name the men Daanish Zahid claims were responsible.
Daanish Zahid claimed, after hiding the phone in March 2004, he "suddenly remembered" having done do, four years later.
As a more mature man he decided to tell the truth - believing it was wrong for Imran Shahid and others to be serving life sentences when the real culprits were free men.
The phone was delivered to Imran Shahid's lawyers in Dundee by Daanish Zahid's brother.
But appeal judges Lord Hamilton, sitting with Lords Reed and Emslie, became suspicious because the texts spelt Kriss Donald's unusual first name correctly - and Daanish Zahid claimed he did not know the youth.
He told the court that the spelling was just "a good guess."
Forensic experts who examined the phone also cast doubt on the story.
In their written ruling, the appeal judges said the affidavits sworn out by Daanish Zahid, his brother and another supporting witness seemed "over elaborate, containing as they do a wealth of detail from previous years which would have been beyond the expected recall of most ordinary people".
They also branded the witnesses "vague, hesitant and shifty".
Deception bid
Referring to the texts, supposedly dating back to March 2004, the judges said: "We simply do not believe that Daanish Zahid was then in a position to identify the deceased, far less to spell his unusual first name correctly."
Lord Emslie, speaking for the other judges, said the evidence they heard from Daanish Zahid and the other witnesses "reflects what can only be described as an elaborate and sophisticated attempt to deceive this court".
Lord Emslie stated: "At this point, of course, we cannot hazard a guess as to who devised the idea in the first place or who was responsible for the fabrication of mobile phone entries in that connection, but in our view the matter is so serious as to merit the fullest and most urgent investigation at this stage."
The judges rejected Shahid's appeal last month, but reporting restrictions meant the ruling could not be reported until now.