Test results awaited on Loch Lomond bones find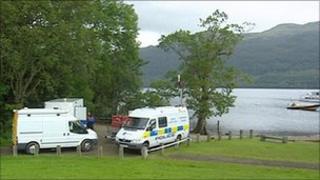 Police are awaiting the results of tests on human remains which were found in Loch Lomond on Wednesday.
A park ranger raised the alarm after spotting fragments of bone in the loch near Tarbet at about 15:30.
Forensic tests have since established the bones are human but further results are awaited before officers decide if there was any criminality involved.
Strathclyde Police have not commented on reports the find may be linked to missing persons cases.
The force said the tests included an attempt to establish whether the remains are male or female, but added that inquiries were at a very early stage, and it could be days or weeks before the result is known.
A police spokesman said: "It will take a while to establish who they belonged to, or if any criminality was involved."
It is thought the remains were spotted close to the shore and the area has been cordoned off, while police investigate.