Motorcyclist, 53, dies after northbound M74 crash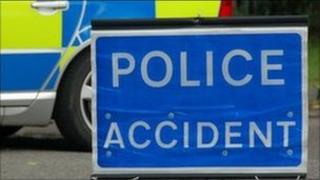 A 53-year-old motorcyclist has died and his 50-year-old female passenger has been seriously injured in a crash on the M74 in South Lanarkshire.
The Kawasaki bike struck a stationary Vauxhall Astra on the northbound carriageway, near Lesmahagow, at about 14:50 on Sunday.
The Astra had stopped to avoid a Mercedes car which struck the central barrier, blocking the outside lane.
The 53-year-old man died a short time later in Wishaw General Hospital.
His female passenger is being treated there for serious injuries to her wrist and is said to be in a stable condition.
Carriageway closed
The 24-year-old driver of the Mercedes car and her two passengers, a 23-year-old man and four-year-old girl, were treated for minor injuries before being released from Glasgow Royal Infirmary.
The 23-year-old female driver of the Vauxhall Astra, was released from the same hospital after being treated for minor back injuries.
The northbound carriageway of the M74 was closed to traffic for about five hours following the crash.
Police have appealed for witnesses to contact them.