Andrew Jolly faces life sentence over threat letters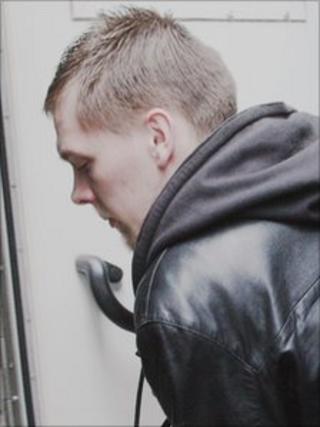 A Glasgow man who sent letters from jail threatening to kill has been warned he could face a life sentence.
Andrew Jolly, 20, was an inmate at Polmont Young Offenders' Institution when he wrote abusive letters to his former colleagues and an ex-girlfriend.
He previously admitted two charges of threatening or abusive behaviour.
A judge at the High Court in Edinburgh asked for a full risk assessment to determine whether an Order for Lifelong Restriction (OLR) would be appropriate.
The court heard Jolly, of Bishopriggs, wrote that he would "love to be as good as Bible John", the 1960s Glasgow murderer.
In his letter to an ex-girlfriend, he included pornographic images from magazines, defaced bible cuttings and a paper containing satanic references.
He vowed to kill her and said he would become a "legend".
Another letter sent to a former colleague at the Asda supermarket in Robroyston in October 2010 said: "I will end [the world], burn it, put a knife through it, bullets, blades, fists anything I get my hands on to get justice."
'Pure rage'
Jolly, who was 19 at the time, described himself as "eleven stone of pure rage" and said: "People underestimate how much of a psycho I am, have been, will be. This is a warning. My last one."
The letter to his ex-girlfriend arrived at her home shortly before Christmas.
Jolly sent the letters from Polmont where he had been sent for six months detention in September 2010.
He admitted at Glasgow Sheriff court the two charges of threatening or abusive behaviour, and another of breaching a non-harassment order and bail orders which banned him from contacting his former girlfriend.
Jolly later told police that he hoped he would either remain in Polmont or be committed to hospital.
He said: "I will burn down Asda if I don't get committed. I will kill people."
Sheriff William Totten sent the case to the High Court to consider the making an Order for Lifelong Restriction (OLR).
Under an OLR a judge sets a minimum term for the offender to serve but they are then only released if the parole board agrees to it. If freed they are kept under supervision.
At the High Court in Edinburgh, defence solicitor Ann Ogg urged judge, Lord Tyre, to consider imposing a determinate sentence on Jolly.
The judge said he was satisfied that an OLR could competently be made in the case and continued the case for the preparation of a risk assessment.